Diane Nelson-Gold and I headed out to paint the August Super Moon as it rose over the coast. We headed up over the Santa Monica Mountains, but as we neared the coast all we could see was a thick blanket of fog. So we decided to paint the moonrise over the Malibu hills off of Mulholland Highway. We got there while it was still light and weren't really sure where the moon would rise.
It was sure beautiful when it began to peak out over the top of the mountain!
I got my block in and then realized I was standing on an ant hill. As I slapped my legs and stomped my feet, Diane came over to help and what did she see? --a scorpion at my feet! It hadn't bitten me, but it certainly was worse for wear after the fright it gave us.
Such is the life a a plein air painter!

**********
I've been working on several low light painting... evening, like this one where the values are very close together. I haven't been really satisfied with my efforts, but I really do know that the more often I work at it, the more likely it will be that I WILL be satisfied with how it comes out. Sometimes painting is just a struggle. I think that's true especially when you are trying something new or different.
Sadly, I think I'm a pretty slow learner. I do, however, seem to keep at it and I'm ever-hopeful that, like the tortoise, I will cross the "finish" line a winner.
Actually I've come to the conclusion that just BEING ON THIS JOURNEY of learning and growing as an artist makes me a winner.
In addition to my Venice nocturne from my last blog post, here are a few other nocturnes/ moon rises I've attempted lately (and one from a while back that I've always liked).
Malibu Moonrise 9x12 O/L July Moonrise 8x10 O/L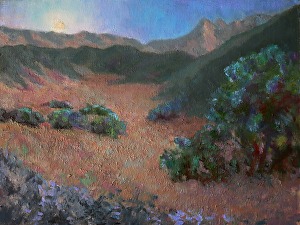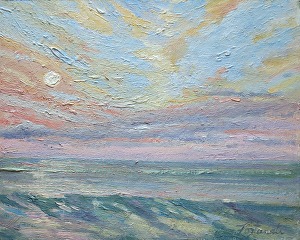 Good Night, Moon 12x12 O/L San Pedro Evening Sky 9x12 O/L