Maria Klar
, one of the gals I've met while painting en plein air with the California Art Club group, emailed me last week to let me know that she and several friends would be getting together to paint. Yippeee!!! My buddy,
Sharon Weaver
and I drove out together on Thursday. I was thrilled to be able to join Maria and it was also great to see
Sharon Burkett Kaiser
and
Lynn Gertenbach
, who brought some students with her. I have painted before with Wendy Seigfrid and Diane Scharlin and know the other student by face because I think he's in one of my clubs. Hopefully we'll meet out painting again.
Everyone had a great time and I so enjoyed talking with Sharon and Maria about painting and their ideas on creating a great painting. I commented to Sharon Kaiser that I really had LOVED her painting of these very same cherry trees that was exhibited at the
California Art Club's "On Location In Malibu"
show last year. She said she had painted it from a number of studies she had done of the trees.
I believe we all had a fabulous time. Even though I brought a relatively large canvas with me (12" x 16") I decided that I needed to take Sharon's expert advice and think of each of my plein air paintings as studies... to be used as a basis for larger studio paintings. Of course, if a viewer happens to want to buy them, then that's great too. Although I had to return early to volunteer in Tyler's class so couldn't stay and chat during lunch, it was a great day with good companions and beautiful scenery.
I hope to have the opportunity to paint with Maria and her friends again. Apparently she's going to try to set up weekly "paint outings". With the lovely weather and the beautiful spring greens and flowers all around, everyone should be able to find s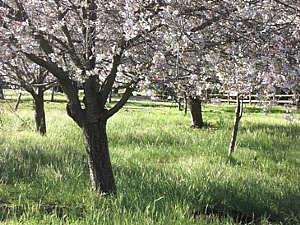 omething wonderful to paint.
(HERE DADDY... THIS IS THE COLOR OF THE TREES.)